The Best DIY Acupuncture Website Software
**NEW!!** DIY Acupuncture Website Update: Please read, "Complementary and Alternative Marketing: How to Attract New Patients, Market Your Practice, and Earn Passive Income With Your Acupuncture Website".

If you are looking for the best Do-It-Yourself (DIY) Website Company and software program, then take a good look at Site Build It (SBI).
They provide you with everything you need to build a great website, including free website templates, contact forms, newsletters, built-in auto-responders, and lots more.



See for yourself how a massage therapist uses SBI! to advertise her practice and support her passion.

SiteBuiltIt! not only gives you all the tools to create an awesome website for your acupuncture practice, but you will have the best marketing toolfor your business.
Ken Evoy is president of Sitesell, Inc, the company that produces Site Build It. He has developed a solid, reputable company, that is well known for its excellent customer support and ethical practices. His dedication to the "little guy" is unmatched. (Read Ken Evoy's advice to small business owners using SBI.)
At less than $25 per month ($299 per year), Site Build It is by far the best value for your dollar when it comes to writing your own acupuncture website, especially if you are a beginner.
About 4 times a year Site Build It has a special that lasts about 1 week where you can purchase 2 websites for the price of one. Get a friend, colleague, or family member who also wants their own website to split the cost with you, and you both get a fantastic deal! If you want to be alerted when their next sale is, sign up for my Free Acu Insighter Alerts and I'll send you an email.
Everything you see on this website is a product of the SBI software program and learning tools. And I was definitely a beginner when I started this website in March, 2007.
Even if you are not tempted to build your own DIY acupuncture website, I encourage you to take their video tour, if for no other reason than to learn what IS possible (and necessary) to have a website that builds and markets your acupuncture business.
If you know very little about websites but you want to be able to control the content (which I highly recommend) SBI offers great resources and tools. They emphasize value, functionality, ease of use, building a business, and proven marketing principles. Their mantra is to create quality websites that provide excellent information so that you give your customers even more than they hoped for. The ultimate goal, even before earning money, is to over-deliver valuable content in such a way that your customers can not only find you easily (among the 56+ million websites out there), but they trust your information, seek out your services, and keep returning for more.
Site Build It teaches you how your website can be a tool for "monetization", that is earning money from the quality information that you write. The user friendly "10-Day Action Guide" (available in both audio and written format) guides you through a step-by-step process. I am living proof that the information is suitable for beginners. (I did not know anything about building websites until I started this one in March, 2007. All I did is follow the step-by-step Action Guide and ask for help in the forums when I needed it.)
Although knowledgeable and experienced webmasters also share their praise for Site Build It because of its flexibility, technical support, server reliability, virtually unlimited file-size, video & audio interfaces, E-zine, Blog, and Email features, the greatest plus that everyone can agree on is the low cost.
They have a Money-Back Satisfaction Guarantee, but even better than that Site Build It works hard to keep you a loyal customer by over-delivering exceptional quality information, tools, and resources that they are constantly updating and improving. In other words, they actually practice what they preach.
Learn How to Sell Your Acupuncture Services
Although you may be selling herbal medicine products, mostly you are selling your services as an acupuncturist. The mindset of most acupuncturists is (understandably) to market to the local community. What you do not realize is that your market can be much MUCH bigger.
When your business websites is used like an electronic business card or a brochure you miss out on the power of website marketing. If you look on the internet, except for the name, address, and phone numbers, almost every acupuncture website has the same content. They give the history of acupuncture, what Chinese medicine is, what conditions it treats with references to the World Health Organization and the 1997 NIH Consensus Statement, followed by a list of FAQs, some "useful links" and perhaps MapQuest directions to their acupuncture clinic.
By doing "business card websites" in this manner acupuncturists are not only missing out on marketing to hundreds if not thousands of local people, but you are missing out on marketing to, and earning an income from, people all over the world.
To really understand the concept behind website marketing for those professionals who provide services, start by reading a free E-book called, The Service Seller's Masters Course.
It describes in easy-to-understand language how those of us who sell business services like acupuncture, dentistry, or lawn care, just to name a few, can benefit from marketing with an optimized website. Real-life examples of businesses are highlighted, but my favorite part is the comparison of website marketing and Yellow Pages advertising. The cost savings are tremendous! The Service Seller's Masters Course is a great FREE E-Book that explains how to establish a successful Service Seller's mindset and how to maximize your website marketing potential.
The Best Business-Services Free E-Book!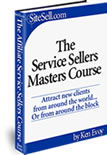 This is a 203-page very informative E-Book
Print it to read at your convenience or read it from your desktop.
You will need Adobe Reader installed on your computer in order to open and read this E-Book. Most computers already have a pdf reader, but if yours does not, you can download Adobe Reader FREE by clicking here. (A new window will open so you can download it without leaving this page.)
You have nothing to lose, and more to gain than you can imagine!


Still Stuck? Ask For Help
If you feel lost about how to proceed and want help, go ahead and request help. I am offering this to you because I wish I had someone to advise me 8 years ago, and getting your acupuncture website right as early as possible in your career will help your business immensely. Remember that I am not an expert (read my Disclaimer), but I am willing to share the experience I have and the lessons I've learned.
I answer every inquiry myself. I therefore require that you provide your full contact information, including email, mailing address, and phone number. This is simply to weed out solicitations (yes, I get them!) and those who are not serious about needing help. I value my time and your time. If you do not hear from me within 3 business days please try again being absolutely sure that your contact information (phone number & email) are correct.



Contact Me if you have Questions about SBI

Hire Someone to Design Your Acupuncture Website

Return to Top of DIY Acupuncture Website Software